President Biden on Wednesday called on Congress to suspend the federal gas tax for three months and asked states to suspend their own gas taxes or provide commensurate relief to consumers.
The federal government charges an 18.4-cent tax per gallon of gasoline and a 24.4-cent tax per gallon of diesel. Suspending the tax for three months — through the end of September, will cost about $10 billion, the White House said.
"I fully understand that the gas tax holiday alone is not going to fix the problem," Biden said in remarks delivered from the South Court Auditorium. "But it will provide families some immediate relief, just a little bit of breathing room, as we continue working to bring down prices for the long haul."
But the idea may not get the reception Biden is looking for from lawmakers on Capitol Hill.
Sen. Joe Manchin, D-W.Va., told ABC News on Wednesday that he's not on a "yes" vote right now.
"Now, to do that and put another hole into the budget is something that is very concerning to me, and people need to understand that 18 cents is not going to be straight across the board — it never has been that you'll see in 18 cents exactly penny-for-penny come off of that price," Manchin said.
Biden specifically called on companies to make sure that "every penny" of those savings are passed through to consumers.
"This is no time for profiteering," he said.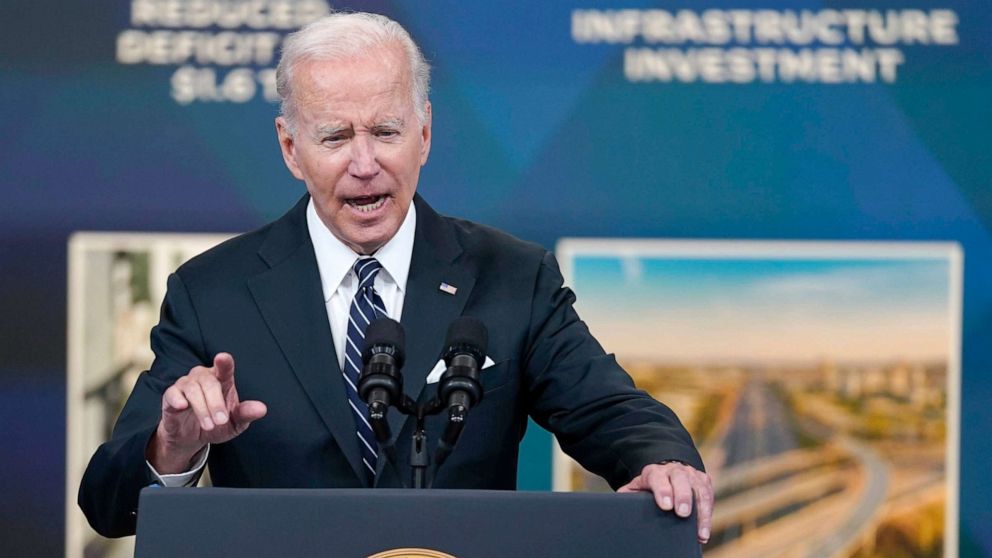 Biden on Wednesday also called on the industry to use profits to refine more oil and gasoline and lower prices at the pump.
"My message is simple to the companies running gas stations and setting those prices at the pump: this is a time of war, global peril, Ukraine," Biden said. "These are not normal times. Bring down the price you are charging at the pump to reflect the cost you are paying for the product to it now. Do it now, do it today. Your customers, the American people, they need relief now."
The administration has been putting public pressure on oil companies to help Americans at a time of financial need.
"Companies, of course, are beholden to their shareholders, but they really need to be beholden and conscious of customers, and their fellow neighbors, and their fellow citizens, just like this administration's doing," another senior administration official told reporters. "And we hope that that's the spirit that CEOs of these companies will take."
Energy Secretary Jennifer Granholm is scheduled to meet with oil company executives Thursday.
On Wednesday, Biden also called on state and local governments to provide "relief" to Americans by suspending their state gas taxes or provide other remedies, like delaying planned tax and fee increases, or even consumer rebates or relief payments.
State gas taxes average about 31 cents per gallon of gasoline, according to the U.S. Energy Information Administration.
Researchers at the University of Pennsylvania's Wharton School recently found that the suspension of gas taxes in Maryland, Georgia and Connecticut were, in fact, "mostly passed onto consumers at some point during the tax holiday in the form of lower gas prices," but that the lower prices "were often not sustained during the entire holiday."
In Maryland, 72% of the tax savings were passed on to consumers; in Georgia, 58-65% were, and in Connecticut, 71-87% were, according to their analysis.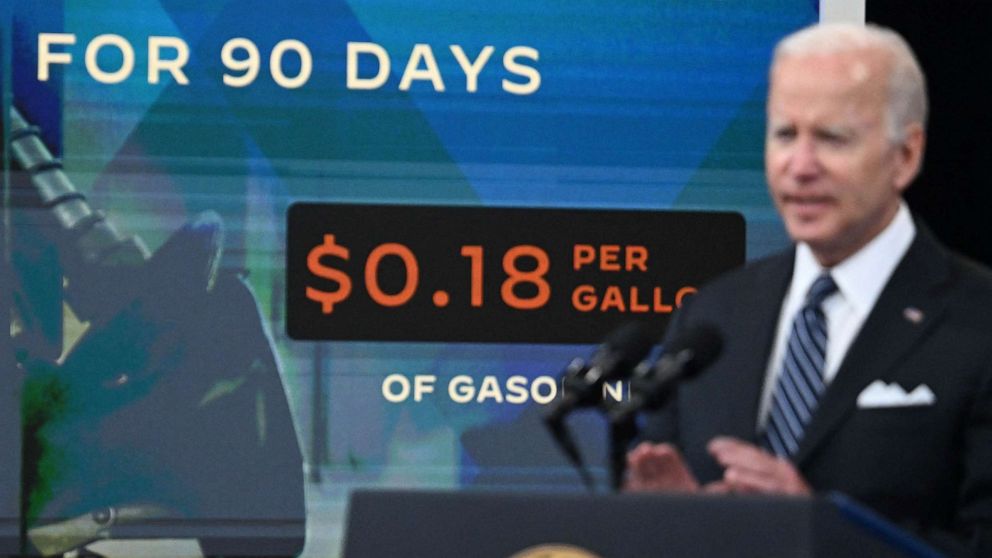 When asked why Biden wants the federal tax suspended for three months specifically, the official said the president wanted to balance the need of "the unique moment that we're in" — particularly during the summer driving season — with the fact that the tax provides important revenue for the government to pay for highways and other transportation projects.
"The purpose of this suspension," the official said, "is really to address the unique moment that we're in, and with a particular focus on the summer driving season and the pain that families are feeling at the pump right now, while recognizing that on a longer-term basis, the gas tax is an important source of revenue for federal infrastructure."
The gas tax revenue goes to the federal government's Highway Trust Fund, which provides for much of the government's spending on highways and mass transit.
Biden said his proposal wouldn't affect the Highway Trust Fund, and an administration official previously told reporters that Congress can fill in the $10 billion gap with "other revenues."
"I promise you I'm doing everything possible to bring the price of energy down, gas prices down," the president said.
I have tried to give all kinds of news to all of you latest news today 2022 through this website and you are going to like all this news very much because all the news we always give in this news is always there. It is on trending topic and whatever the latest news was
it was always our effort to reach you that you keep getting the Electricity News, Degree News, Donate News, Bitcoin News, Trading News, Transfer News, Gaming News, Trending News, Digital Marketing, Telecom News, Beauty News, Banking News, Travel News, Health News, Claim News latest news and you always keep getting the information of news through us for free and also tell you people. Give that whatever information related to other types of news will be
made available to all of you so that you are always connected with the news, stay ahead in the matter and keep getting today news all types of news for free till today so that you can get the news by getting it. Always take two steps forward
All this news that I have made and shared for you people, you will like it very much and in it we keep bringing topics for you people like every time so that you keep getting news information like trending topics and you It is our goal to be able to get
all kinds of news without going through us so that we can reach you the latest and best news for free so that you can move ahead further by getting the information of that news together with you. Later on, we will continue
to give information about more today world news update types of latest news through posts on our website so that you always keep moving forward in that news and whatever kind of information will be there, it will definitely be conveyed to you people.
All this news that I have brought up to you or will be the most different and best news that you people are not going to get anywhere, along with the information Trending News, Breaking News, Health News, Science News, Sports News, Entertainment News, Technology News, Business News, World News of this news, you can get other types of news along with your country and city. You will be able to get information related to, as well as you will be able to get information about what is going on around you through us for free
so that you can make yourself a knowledgeable by getting complete information about your country and state and information about news. Whatever is being given through us, I have tried to bring it to you through other websites, which you may like
very much and if you like all this news, then definitely around you. Along with the people of India, keep sharing such news necessary to your loved ones, let all the news influence them and they can move forward two steps further.
Credit Goes To News Website – This Original Content Owner News Website . This Is Not My Content So If You Want To Read Original Content You Can Follow Below Links