LADDONIA, Mo. — Delayed by a wet spring, northeast Missouri farmers like Tony Hoyt were hustling to get soybeans and corn planted. It was mid-June and they'd finally caught a break in the weather.
As for that other race going on — the one to fill U.S. Sen. Roy Blunt's seat when he retires — Hoyt didn't think there was much of one left. He thinks Eric Greitens has it cinched up like a sack.
Hoyt clutched the day's fuel receipt from running two tractors with his son: 143 gallons for $702.77. But it was something more powerful than input costs that guaranteed his vote for the former Missouri governor who resigned amid scandal.
"For me, it's the fact that Democrats hate him," Hoyt said.
Not to mention Republicans.
The largest U.S. Senate primary in at least a generation of Missouri elections isn't over. If anything, the race has heated up now more than ever, largely in response to particularly bold campaign ads and uncouth comments that have become part of the election playbook. As one Republican strategist put it: the family values party has been eclipsed by win at all costs.
There are 21 Republicans, 11 Democrats, and two minor party candidates signed up for the Aug. 2 primary. Winners of each party face off Nov. 8 in the general election against any independents who emerge. Considering statewide voting trends, a Republican victory is expected.
Since the race began, various polls indicated Greitens has a solid base of about one-quarter of the GOP. A Fox 2/Emerson College/The Hill newspaper poll that reached 1,000 likely Republican primary voters between June 2 and June 5 found Greitens leading with 26% of voters. In sequence, he was trailed by state Attorney General Eric Schmitt, U.S. Reps. Vicky Hartzler and Billy Long, and personal injury attorney Mark McCloskey.
Like others in his party, Greitens, 48, has achieved this without mentioning policy positions. "America First" is the closest. Fear and grievance are hammered home. Fear that the government is out of control — out to get you — and elected leaders from both parties don't have the brawn to right the ship right now.
Former President Donald Trump notably hasn't endorsed anyone in the race, but Greitens seems to personify him most on the campaign trail. He's bombastic and scandalous. He uses unfavorable press in his favor to appeal to right-wing voters alienated by traditional politics and politicians.
While he hasn't received Trump's official stamp of approval, for his own part, Greitens skates as close as he can. He publicized a video clip of shooting guns with Donald Trump Jr., whose fiancée, Kimberly Guilfoyle, was hired as national chair of the Greitens campaign.
In frequent social media posts and in rare stump appearances, Greitens says he's a fighter and a patriot who has been stabbed in the back. He shunned the statewide Lincoln Days event for Republicans in February where his GOP competitors worked the well-worn election cycle circuit.
Instead, Greitens spoke from a flatbed trailer when "The People's Convoy" stopped in St. Robert during a cross-country tour from California to Washington, D.C. He cast himself to the trucker crowd as a former boxer and Navy SEAL who was going to punch his way through the entrenched bout between freedom and tyranny.
"You know what scares the Left?" Greitens, in boots and jeans, told the crowd. "You do. You know what scares tyrants? You do. You know what scares the mainstream media with all their lies? We do. Let everybody know that we are here to take our country back."
On Monday, in an explosive video campaign ad, Greitens, shotgun in hand, storms a home with masked soldiers, saying he's hunting RINOs, or "Republicans in Name Only." Stepping through smoke from a flash grenade, he says: "Join the MAGA crew. Get a RINO hunting permit. There's no bagging limit, no tagging limit, and it doesn't expire until we save our country."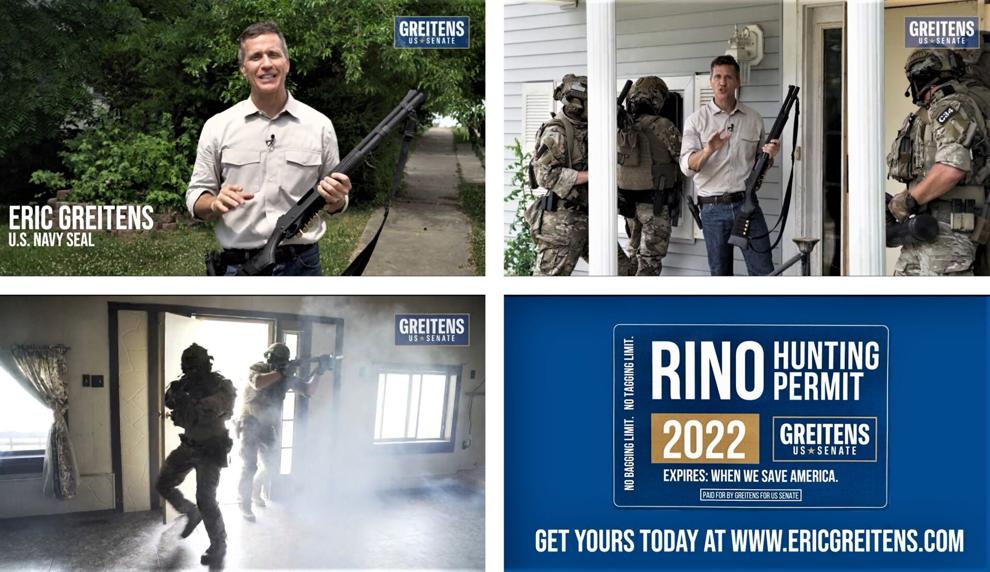 Facing scrutiny that the ad was over-the-top and dangerous, Greitens described it as highly effective satire. That it was removed by Facebook only played into his view that Big Tech skews liberal, doesn't play fair. 
Greitens gave a shout-out to followers online, thanking The Washington Post for "hosting" the video on its website, a jab at one of the largest mainstream newspapers in the country. Click on the link and it was an opinion piece that argued: "At this moment in history, Republican radicalism comes in so many forms — election subversion, draconian abortion restrictions, gun fetishism, anti-LGBTQ scapegoating — that some argue the party is moving toward a new kind of fascism."
Whatever anybody thinks of his strategy, it seems to be working for Greitens, a former Democrat who is Jewish and grew up in St. Louis County near Creve Coeur Lake.
Staying on message
Greitens has always been out front, at least dating to when he was a student at Parkway North High School, where he was involved in a lot of activities and did well.
Yearbook staff asked him what forensics taught him:
"I have learned great communication skills," Greitens said as a junior.
He went on to study ethics at Duke. A Rhodes Scholar at Oxford, he completed a master's degree in development studies and a doctorate in politics that explored best practices of international humanitarian organizations serving children threatened by war. Other than boxing, he doesn't seem to play up that part of his story these days. The campaign narrative starts when he was a Navy SEAL officer. He deployed to Iraq, Afghanistan and other places. He's a Purple Heart recipient.
After the military, he started The Mission Continues to help veterans reestablish themselves in civilian life. The nonprofit expanded from St. Louis to become a highly regarded national organization. Greitens wrote memoirs like the "The Heart and the Fist," "The Warriors Heart" and "Resilience," which helped make him a sought-after name on the motivational speaker circuit.
As a Republican, Greitens ran for governor in 2016. He championed his veteran status, experience hunting members of the Islamic State, as proof that he was the right candidate to drain the swamp of self-dealing in Jefferson City. Trump, another outsider, also won the presidency that year, when a red tidal wave washed across the country.
True to his promise, Greitens shook things up. He called for special legislative sessions. He blasted elected officials, including in the halls of the government, for trying to pass a pay raise for legislators. He said state low-income housing tax credits were a sham that left too much money on the table for "rip-off artists." The incentives were suspended while he was governor.
Greitens also thought too much public money was being used to pay school administrators six-figure salaries rather than better support teachers in the classrooms. Five people whom Greitens appointed to the Missouri Board of Education voted to fire Missouri Education Commissioner Margie Vandeven. While some described the move as a political power grab, others saw it as a bold effort that nobody had the guts to touch in years past.
Greitens appointed a lot of women to his cabinet and board posts. At state buildings across Missouri, his formal governor's portrait was a picture of him, his wife, Sheena, and their two young boys. The prominence of that message made it all the more crushing when information began to surface about an extramarital affair Eric had in 2015 when the Greitens family lived in the Central West End neighborhood of St. Louis.
Greitens has described the affair with his hairdresser as a consensual relationship that was a mistake on his part. He has denied taking a semi-nude photograph of the woman as blackmail to stay quiet. Sworn testimony from the woman, who didn't seek publicity over the matter, described secret encounters with Greitens in his home as abusive. A Missouri House Special Investigative Committee on Oversight report led by fellow Republicans said she was a "credible" witness.
During her first visit to the Greitens home, she testified that she became "fearful" and "embarrassed" by how things were playing out. She testified that when she tried to leave, Greitens bear-hugged her, saying everything was going to be OK, as he laid her down on the basement floor.
"So he was laying there and I was laying next to him just crying — like uncontrollably crying," she testified. "And he was like, 'Shh, shh, it's OK, it's OK.' That's all he was really saying at this point. And he was trying to like fondle my body. … He starts undoing his pants, and he takes his penis out and puts it, like, near where my face is … he's not going to let me leave, because he's obviously still horny. So I gave him oral sex at this point."
During a separate time at the Greitens home, she testified, Greitens slapped her across the face when she told him she'd had sex with her husband since their last visit. According to the investigation, when it was suggested that the woman was "half-raped and blackmailed," she answered: "Yes."
After the April 11, 2018, report was publicized, Greitens called the affair a personal mistake that had been exploited for political purposes. Though invited to testify in the ongoing probe, he didn't.
"The people of Missouri see through this," he said then. "And they know better than to trust one-side tabloid trash gossip that was produced in a secret report."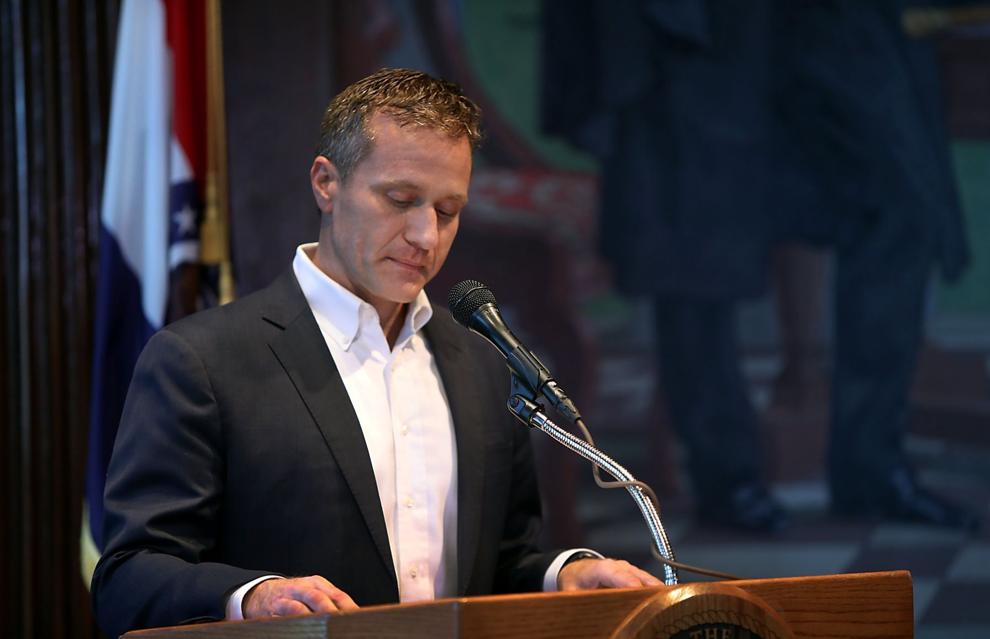 The House committee was investigating additional topics, including the use of The Mission Continues donor list in Greitens' campaign for governor and financing of A New Missouri, an organization that promoted his agenda. Greitens announced his resignation in late May 2018, shortly after a judge ruled he could be subpoenaed to testify.
'Tremendously charismatic'
Today, in his campaign for U.S. Senate, Greitens doesn't mention the hairdresser and specifics of the House investigation. Instead, he lambasts St. Louis Circuit Attorney Kim Gardner for being a "George Soros-funded" prosecutor who tarnished his image with a botched invasion-of-privacy case stemming from the affair. The case was dismissed. A lead investigator in the prosecutor's case pleaded guilty to misdemeanor evidence tampering and Gardner faces disciplinary action. Greitens claims he's been exonerated, while the substance of the hairdresser's testimony has largely been forgotten.
"To his credit, what took place in St. Louis through that process started taking center stage, took some of the attention away from what had happened in his personal life," Don Phillips, vice chairman of the House investigation, said Monday in a telephone interview.
Phillips, now chairman of Missouri's Board of Probation and Parole, is a former state trooper and Republican lawmaker from rural Kimberling City. He said he voted for Greitens when he ran for governor and introduced him at events.
"I personally have nothing against the guy. I was enthusiastically supportive of him before this came out," Phillips said of the House investigation. "Naturally, I had to change my thinking."
Phillips thinks Greitens is a front-runner in the Senate race because he's "tremendously charismatic."
"He's great in front of people and interacting with people," Phillips said. "Nice looking guy and fit. He looks like he's up for the task. It appears that he has more dirty laundry than the rest of them combined. Memory is pretty short out there.
"The public is more forgiving when it's something personal instead of something corrupt within the government — poor leadership and that kind of thing. We didn't see that out of him as governor. It was his personal stuff that came back to haunt him so much."
Nasty divorce
Republican and Democrat lawmakers at different levels of elected offices called for his resignation.
Though Sheena stuck by him through the heat of the scrutiny, the power couple divorced in 2020. She now lives with their two boys in Austin, where she works as an associate professor at the University of Texas. After attending Stanford and Oxford, she earned a doctorate from Harvard. She is an expert on national security, foreign policy and authoritarian politics.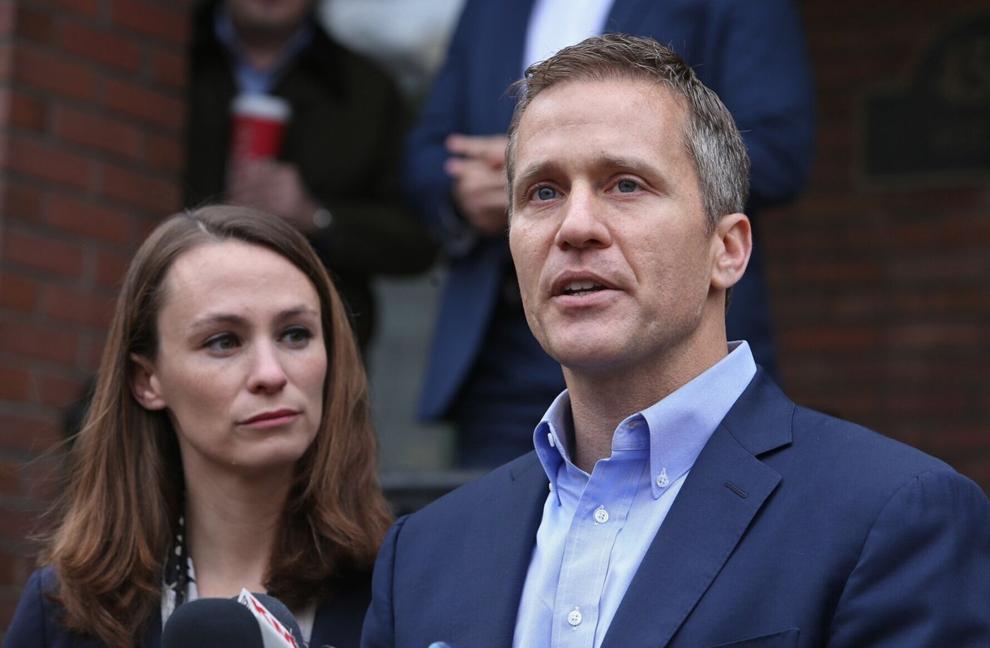 In an ongoing custody case filed in Boone County, Sheena alleged in an affidavit that Eric physically abused her and their children. She alleged that he'd threatened suicide and that firearms were kept away from him as precaution.
In response to public court filings, Eric blasted his wife, claiming the Republican U.S. Senate Minority Leader Mitch McConnell — whom he vows not to support if elected — and political operative Karl Rove influenced the affidavit. Sheena provided telephone records to the court to refute the claim.
"I am seeking full custody of my sons, and for their sake, I will continue to pray for their mother and hope that she gets the help that she needs," Eric said on Twitter after news of the sworn affidavit hit.
Reporting earlier this month, just north of Boone County, in the Moberly area, signaled that voters may not care or be paying attention to the child custody case. Elvina Cunningham, president of Randolph County Federated Republican Women, hadn't been following it.
"How many people have gone through a nasty divorce?" she asked in an interview on a recent morning.
She hadn't heard anything lately about troubling details from the 2018 House investigation.
"To be honest," she said, "what's the difference between what happened to Bill Clinton and Greitens? And Clinton stayed in office."
She said a lot of people have ups and downs in their life.
"His military service, I think that accounts for a lot," she said of Greitens. "Out here in the Midwest, we want down to earth. We are very patriotic."
Still, Cunningham, 65, a lifelong Republican, wasn't sure who she was going to vote for. Notable about Greitens is that he resigned as governor.
If he didn't have anything to hide, then why did he quit?
"He's always going to have that baggage behind him," she said. "Although people forgive, they don't forget."
But Greitens doesn't seem to be gunning for her vote, or others that ask those kinds of questions. Even with her role with the Republican women's group, Cunningham said she wasn't aware Greitens was supposed to speak that morning at The Brick, a Moberly café on the other side of the block from her office.
Statewide tour
Mary Lee Noel said the Greitens campaign asked her to organize the event as part of the candidate's "No Mo RINOs Statewide Tour." The event was scheduled for June 15.
"He's been treated so unfairly," Noel, 80, said in an interview at her home, which is something she could relate to. "My husband was mayor. We've been lied about."
Out of the candidates, she said, Greitens is the most like Donald Trump, whom she described as a blue-collar billionaire.
"I love Donald Trump," she said. "I believe every word that comes out of his mouth. It's the common man who takes care of this nation, not elitists in New York."
She said Greitens would hopefully change the path of the country.
"We are falling off a cliff," she said.
She noted crime, efforts to "destroy our history" by pushing critical race theory and gender issues.
At the last hour, the Greitens campaign cancelled the June 15 "No Mo RINOs" stop in Moberly. Another one scheduled later in the day at a trucking company in Monroe City was also cancelled. A tour stop planned for Wednesday night at the Holts Summit civic center was cancelled Tuesday afternoon, according to the venue. Instead, Greitens popped up at the Back In Time café in tiny Warsaw. 
At a planned stop in the tour June 13 at a church in Camdenton, near Lake of the Ozarks, a small but intimate crowd attended. Many of them flocked around a table seeking RINO-hunting permits, said Jane Cunningham, a former state senator from West St. Louis County who introduced Greitens.
"People in St. Louis may not like it, or in Kansas City or Columbia, but by golly in Camdenton, in rural Missouri, that is a huge hit," she said.
She said the gathering included supporters who believe the establishment targeted Greitens when he was governor because they couldn't control or buy him. She said he also earned a few new votes.
"There is an anger against the establishment because they really haven't performed," she said. "When these establishment people come after Greitens, all it does is help."
Greitens opened up the floor to questions. Nobody asked why he left office in 2018, though Cunningham said she wished somebody had. Greitens wouldn't sit for an interview with the Post-Dispatch.
"It's like they have walked away from it because things that are affecting their pocket book, livelihood and freedoms," Cunningham said. "During COVID, you couldn't meet at church."
At times during his speech, according to a video recording of the event, Greitens spoke with one hand held to the heavens. He said a "revival" of efforts from everyone is needed to take the country back.
"Sometimes God will hand you pain that you don't want," he told them. "But you know what he offers on the other side? He offers wisdom. He'll hand you suffering that you don't want, but on the other side he offers strength. He'll put fear in front of you that you might not want, but on the other side he offers courage."
Greitens, about to take distant swings at evil forces, stared into the eyes of a small group of supporters.
"I am happy to tell you that I am here stronger, wiser, more joyous, more courageous than I have ever been in my life," he told them. "And I have been blessed to recognize the nature of the enemy that we face."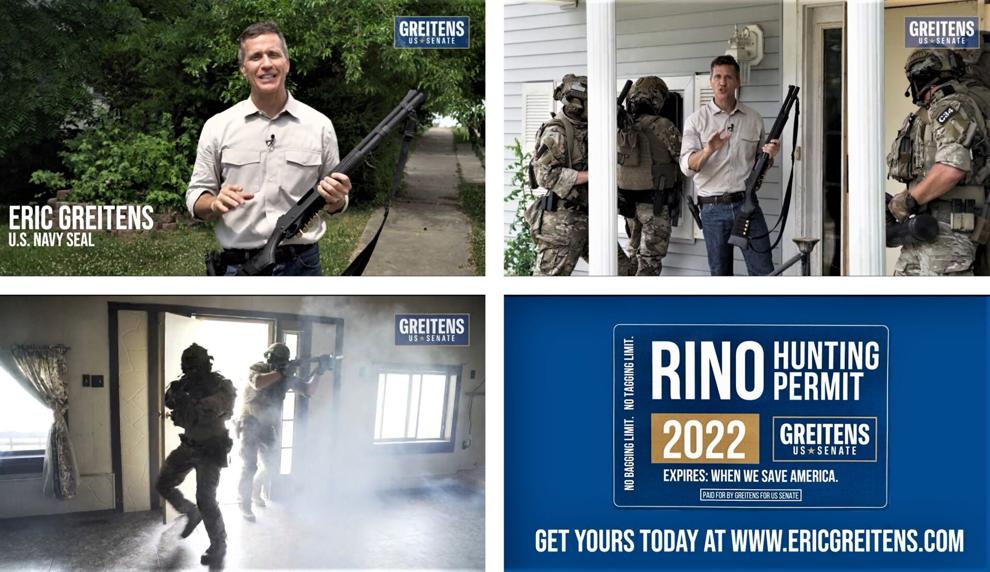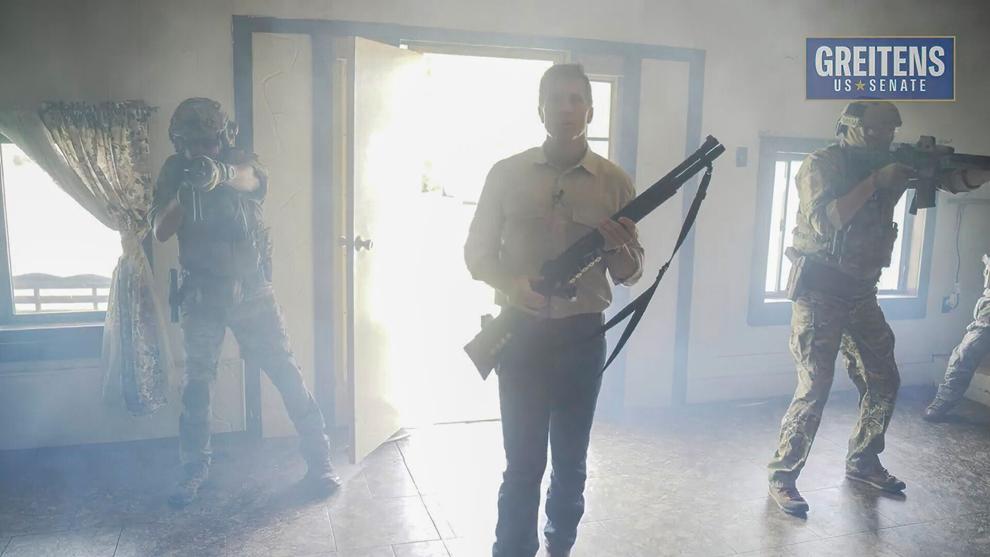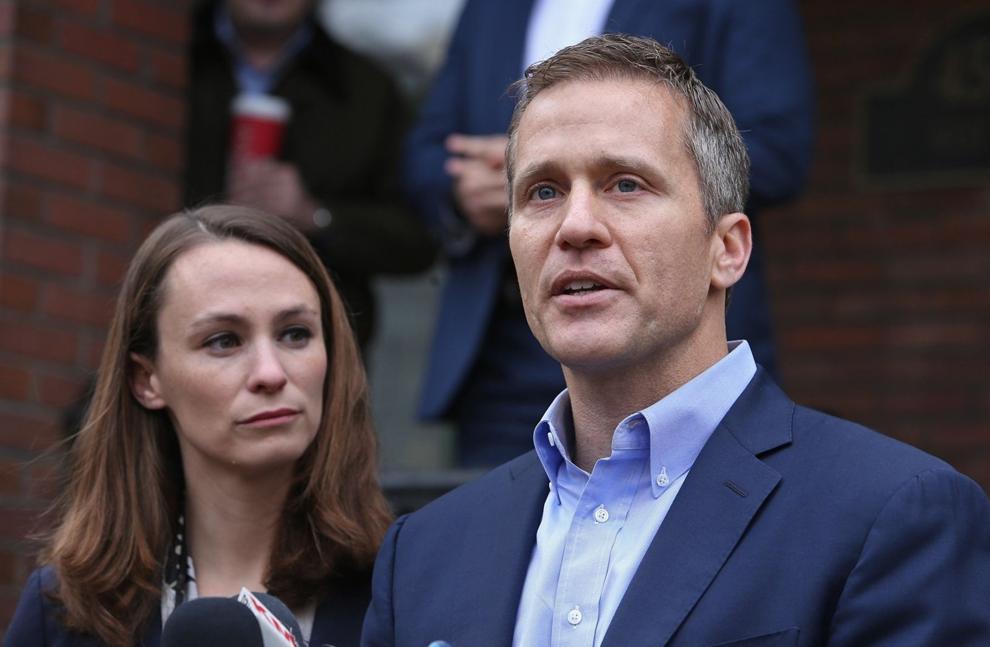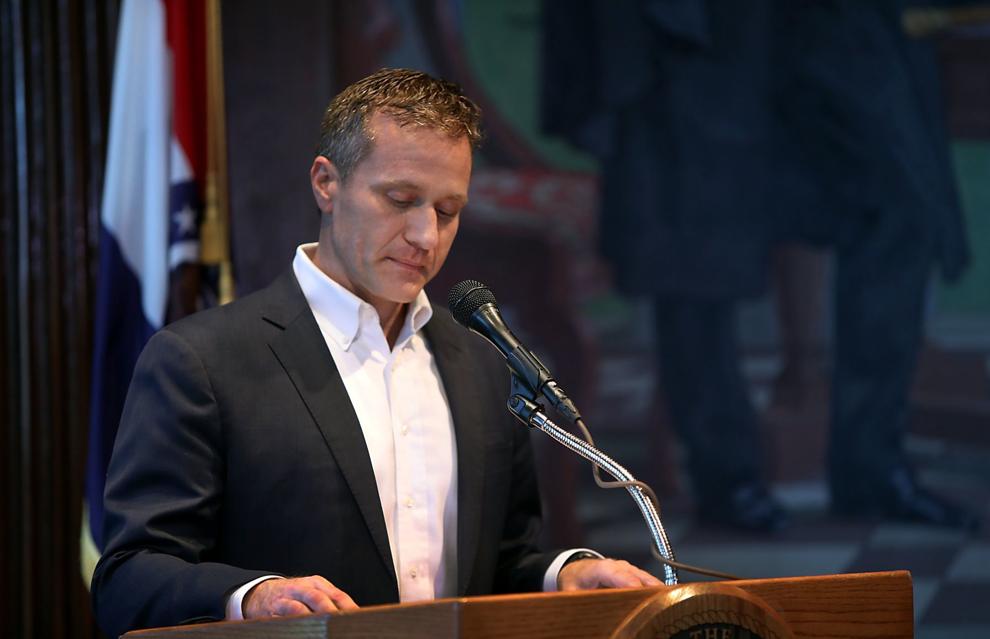 I have tried to give all kinds of news to all of you latest news today 2022 through this website and you are going to like all this news very much because all the news we always give in this news is always there. It is on trending topic and whatever the latest news was
it was always our effort to reach you that you keep getting the Electricity News, Degree News, Donate News, Bitcoin News, Trading News, Transfer News, Gaming News, Trending News, Digital Marketing, Telecom News, Beauty News, Banking News, Travel News, Health News, Claim News latest news and you always keep getting the information of news through us for free and also tell you people. Give that whatever information related to other types of news will be
made available to all of you so that you are always connected with the news, stay ahead in the matter and keep getting today news all types of news for free till today so that you can get the news by getting it. Always take two steps forward
All this news that I have made and shared for you people, you will like it very much and in it we keep bringing topics for you people like every time so that you keep getting news information like trending topics and you It is our goal to be able to get
all kinds of news without going through us so that we can reach you the latest and best news for free so that you can move ahead further by getting the information of that news together with you. Later on, we will continue
to give information about more today world news update types of latest news through posts on our website so that you always keep moving forward in that news and whatever kind of information will be there, it will definitely be conveyed to you people.
All this news that I have brought up to you or will be the most different and best news that you people are not going to get anywhere, along with the information Trending News, Breaking News, Health News, Science News, Sports News, Entertainment News, Technology News, Business News, World News of this news, you can get other types of news along with your country and city. You will be able to get information related to, as well as you will be able to get information about what is going on around you through us for free
so that you can make yourself a knowledgeable by getting complete information about your country and state and information about news. Whatever is being given through us, I have tried to bring it to you through other websites, which you may like
very much and if you like all this news, then definitely around you. Along with the people of India, keep sharing such news necessary to your loved ones, let all the news influence them and they can move forward two steps further.
Credit Goes To News Website – This Original Content Owner News Website . This Is Not My Content So If You Want To Read Original Content You Can Follow Below Links