WASHINGTON — Former President Donald Trump sought inside help from the Justice Department to execute his campaign to reverse the the 2020 election, according to evidence presented by the House Jan. 6 committee Thursday.
"Just say the election was corrupt and leave the rest to me and the Republican congressmen," Trump implored top Justice officials in a Dec. 27, 2020, conversation memorialized in then-acting Deputy Attorney General Richard Donoghue's contemporaneous notes.
After Donoghue and then-Acting Attorney General Jeffrey Rosen repeatedly rebuffed Trump's pressure, they testified Thursday, he threatened to replace Rosen with Jeff Clark, an inexperienced loyalist who had drafted a letter asserting that the outcome of the election was in doubt and urging states to certify slates of fake electors.
That letter amounted to a "murder-suicide pact" that would "damage everyone who touches it," White House counsel Pat Cipollone said during an intense Jan. 3 Oval Office meeting, according to multiple witnesses. In that same discussion, held three days before the official count of electors in Congress, Trump weighed the pros and cons of placing Clark atop the Justice Department to ensure the letter would be sent to pivotal states.
Trump's treatment of Justice officials represents one piece of an emerging historical record that committee members say proves he orchestrated a sprawling campaign to invalidate his defeat. At the same time he was trying to strong-arm the Justice Department, Trump's campaign lawyers were pressuring state officials to overturn results and organizing slates of fake electors.
Since the Watergate scandal, most presidents have worked to project a laissez-faire approach to the Justice Department, allowing the agency to operate independently and as apolitically as possible. But throughout his time in office, Trump ignored those norms and sought to treat the agency as his own legal department.
"It was a brazen attempt to use the Justice Department to advance the president's personal political agenda," Committee Chairman Bennie Thompson, D-Miss., said Thursday.
During the Jan. 3 meeting — just three days before the official certification of electors in Congress — Trump wrestled with whether to make a change at the top of the department.
"What do I have to lose?" he asked.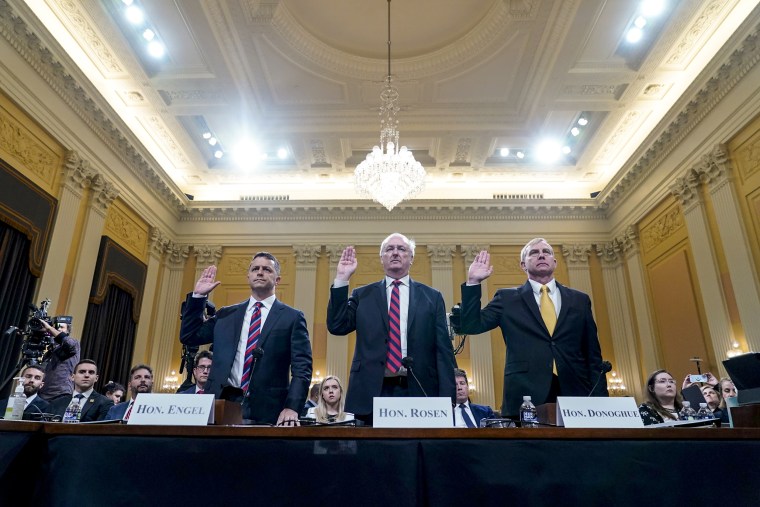 But the conversation occurred in a moment in which he was trying to project strength and stability. He was told by advisers that there would be an embarrassing spate of resignations at Justice if he put Clark in charge. Advisers told him Clark — who was in the room — was not competent to run the agency.
Trump relented. Clark was not promoted. The letter was never sent.
But Trump's effort to enlist the nation's top law enforcement officials fits into the committee's case that he intended to use all available tools — regardless of laws, norms or precedent — to defy voters and cling to power.
Clark has become a central figure to the investigation around Jan. 6. Federal agents visited Clark's home Wednesday, according to a U.S. attorney's office spokesman. In a statement, Russ Vought, a former Trump administration official and Clark's employer at the Center for Renewing America, criticized the "raid" as political.
Illinois Rep. Adam Kinzinger, one of two Republicans on the panel, led the questioning of three witnesses Thursday: Rosen, Donoghue and former Assistant Attorney General for the Office of Legal Counsel Steven Engel.
The panel has already aired recorded testimony from former Attorney General Bill Barr, who said he told Trump in December 2020 that the election was not stolen. Barr, who had said in an interview with The Associated Press that Justice had uncovered no evidence of fraud, resigned before the year was out.
In its four previous public hearings, the committee presented evidence — through documents and witness testimony — about the physical attack on the Capitol, Trump being advised that he had lost, Trump's efforts to pressure then-Vice President Mike Pence and state officials to aid his effort to stop Joe Biden from taking office, and his team's scheme to replace official electors from seven states with slates of "fake electors."
At an earlier hearing, Rep. Liz Cheney, R-Wyo., promised to name lawmakers who had sought pardons from Trump in the waning days of his presidency. The committee delivered on Thursday, playing recordings of testimony about Rep. Matt Gaetz's effort to secure a broad pardon from Trump.
A federal grand jury is investigating whether Gaetz, R-Fla., committed any crimes in connection with a sex-trafficking case. He has denied any wrongdoing and has not been charged with a crime.
The committee also revealed that it had received evidence that several other Republican lawmakers had inquired about getting pardons: Reps. Louie Gohmert, R-Texas, Scott Perry, R-Pa., and Andy Biggs, R-Ariz.
Rep. Mo Brooks, R-Ala., asked for a pardon for lawmakers — including himself — who voted against certifying electors, according to testimony.
It is not yet clear whether the hearings are having a significant effect on public opinion about Trump's role in the Jan. 6 insurrection or his fitness for office, but some committee members say they see signs of a shift against the former president.
"There are a lot of folks around the edge, particularly in the Republican Party and elsewhere, that didn't know the complete story," Kinzinger told NBC News in an interview. "And now when they see the complete story, they're really awestruck by it, and how close we got and how brazen this attempt was to change the election."fspra
I have tried to give all kinds of news to all of you latest news today 2022 through this website and you are going to like all this news very much because all the news we always give in this news is always there. It is on trending topic and whatever the latest news was
it was always our effort to reach you that you keep getting the Electricity News, Degree News, Donate News, Bitcoin News, Trading News, Transfer News, Gaming News, Trending News, Digital Marketing, Telecom News, Beauty News, Banking News, Travel News, Health News, Claim News latest news and you always keep getting the information of news through us for free and also tell you people. Give that whatever information related to other types of news will be
made available to all of you so that you are always connected with the news, stay ahead in the matter and keep getting today news all types of news for free till today so that you can get the news by getting it. Always take two steps forward
All this news that I have made and shared for you people, you will like it very much and in it we keep bringing topics for you people like every time so that you keep getting news information like trending topics and you It is our goal to be able to get
all kinds of news without going through us so that we can reach you the latest and best news for free so that you can move ahead further by getting the information of that news together with you. Later on, we will continue
to give information about more today world news update types of latest news through posts on our website so that you always keep moving forward in that news and whatever kind of information will be there, it will definitely be conveyed to you people.
All this news that I have brought up to you or will be the most different and best news that you people are not going to get anywhere, along with the information Trending News, Breaking News, Health News, Science News, Sports News, Entertainment News, Technology News, Business News, World News of this news, you can get other types of news along with your country and city. You will be able to get information related to, as well as you will be able to get information about what is going on around you through us for free
so that you can make yourself a knowledgeable by getting complete information about your country and state and information about news. Whatever is being given through us, I have tried to bring it to you through other websites, which you may like
very much and if you like all this news, then definitely around you. Along with the people of India, keep sharing such news necessary to your loved ones, let all the news influence them and they can move forward two steps further.
Credit Goes To News Website – This Original Content Owner News Website . This Is Not My Content So If You Want To Read Original Content You Can Follow Below Links