Ukraine's Foreign Minister Oleksii Reznikov hailed the arrival of High Mobility Artillery Rocket Systems (HIMARS) sent as military aid to the Eastern European nation from the U.S.—issuing a dire warning to Russian President Vladimir Putin's forces attacking his country.
Putin launched the full-scale invasion of Ukraine on February 24, drawing swift international condemnation and global backlash. Although Russian largely failed in its initial assault to take control of the Eastern European nation, it has made more gains in recent weeks after refocusing its efforts on the eastern Donbas region of Ukraine.
In response to the unprovoked Russian aggression, the U.S. and NATO allies have rapidly provided billions of dollars in military and humanitarian aid to Kyiv. On Thursday, Reznikov announced the arrival of the HIMARS weapons, which can hit targets some 50 miles away, in a Twitter post.
"HIMARS have arrived to Ukraine. Thank you to my colleague and friend @SecDef Lloyd J. Austin III for these powerful tools!" the Ukrainian official wrote.
"Summer will be hot for russian [sic] occupiers. And the last one for some of them," he added ominously. Reznikov included a photo of a rocket being launched.
The four HIMARS came as part of a $1 billion aid package announced by the White House earlier this month. CBS News reported on Wednesday that the White House plans to announce additional HIMARS will be sent to Ukraine. Since February, the U.S. has already pledged some $5.6 billion in assistance to the country.
"We're going to deepen our support for the Ukrainian Armed Forces in today's fight, and we're going to build their enduring strength for tomorrow's dangers," U.S. Secretary of Defense Lloyd Austin said in June 15 remarks in Belgium.
"By working together, we can help Ukraine defend itself from Russia's cruel assault," he said.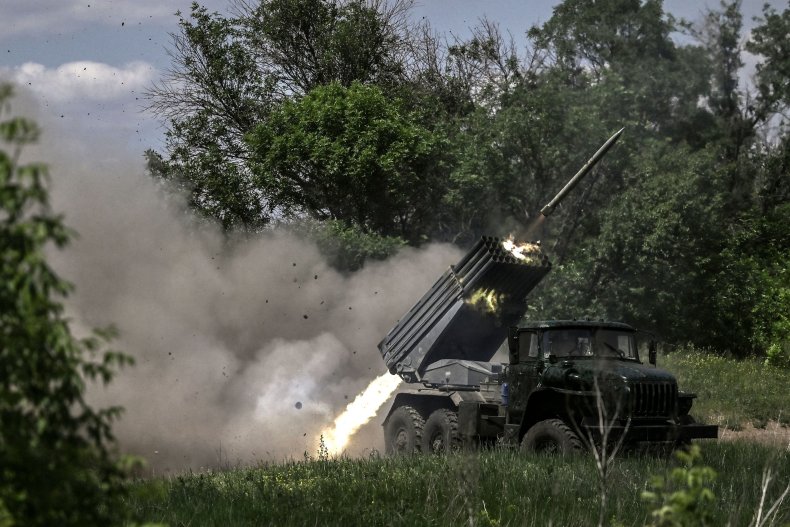 Putin and other top Russian leaders have bizarrely justified their invasion of Ukraine by claiming that the country is led by Nazis. In reality, Ukraine's President Voldymyr Zelensky is Jewish and had family members who died in the Holocaust genocide perpetuated by the German Nazis during World War II. When Zelensky was elected in 2019—with nearly 75 percent of the vote—the prime minister in Kyiv was also Jewish.
Russia's president has suggested that he aims to reconstitute the historic Russian empire, referencing Peter the Great who reigned from 1682 to 1725. Putin has argued that Ukraine should not qualify as a sovereign nation. He has claimed that it should be part of Russia, despite the country being independent since 1991 after it left the now-defunct Soviet Union.
Newsweek reached out to the Russian foreign ministry for comment.
I have tried to give all kinds of news to all of you latest news today 2022 through this website and you are going to like all this news very much because all the news we always give in this news is always there. It is on trending topic and whatever the latest news was
it was always our effort to reach you that you keep getting the Electricity News, Degree News, Donate News, Bitcoin News, Trading News, Transfer News, Gaming News, Trending News, Digital Marketing, Telecom News, Beauty News, Banking News, Travel News, Health News, Claim News latest news and you always keep getting the information of news through us for free and also tell you people. Give that whatever information related to other types of news will be
made available to all of you so that you are always connected with the news, stay ahead in the matter and keep getting today news all types of news for free till today so that you can get the news by getting it. Always take two steps forward
All this news that I have made and shared for you people, you will like it very much and in it we keep bringing topics for you people like every time so that you keep getting news information like trending topics and you It is our goal to be able to get
all kinds of news without going through us so that we can reach you the latest and best news for free so that you can move ahead further by getting the information of that news together with you. Later on, we will continue
to give information about more today world news update types of latest news through posts on our website so that you always keep moving forward in that news and whatever kind of information will be there, it will definitely be conveyed to you people.
All this news that I have brought up to you or will be the most different and best news that you people are not going to get anywhere, along with the information Trending News, Breaking News, Health News, Science News, Sports News, Entertainment News, Technology News, Business News, World News of this news, you can get other types of news along with your country and city. You will be able to get information related to, as well as you will be able to get information about what is going on around you through us for free
so that you can make yourself a knowledgeable by getting complete information about your country and state and information about news. Whatever is being given through us, I have tried to bring it to you through other websites, which you may like
very much and if you like all this news, then definitely around you. Along with the people of India, keep sharing such news necessary to your loved ones, let all the news influence them and they can move forward two steps further.
Credit Goes To News Website – This Original Content Owner News Website . This Is Not My Content So If You Want To Read Original Content You Can Follow Below Links